Introducing Non-Surgical Spinal Decompression
Dr. Don Walsh, DC and the New Smyrna Spine & Injury Center offer the latest leading edge technology in the non-surgical treatment of serious lower back pain and sciatica. Our commitment to offering the highest quality of care resulted in the addition of the FDA cleared Kennedy KDT-655 Neural-Flex Spinal Decompression technology for the treatment of back pain and neck pain due to:
Herniated Discs
Bulging Discs
Pinched Nerve
Sciatica (leg pain)
Degenerative Disc Disease (DDD)
Spinal Stenosis
Post-Surgical Pain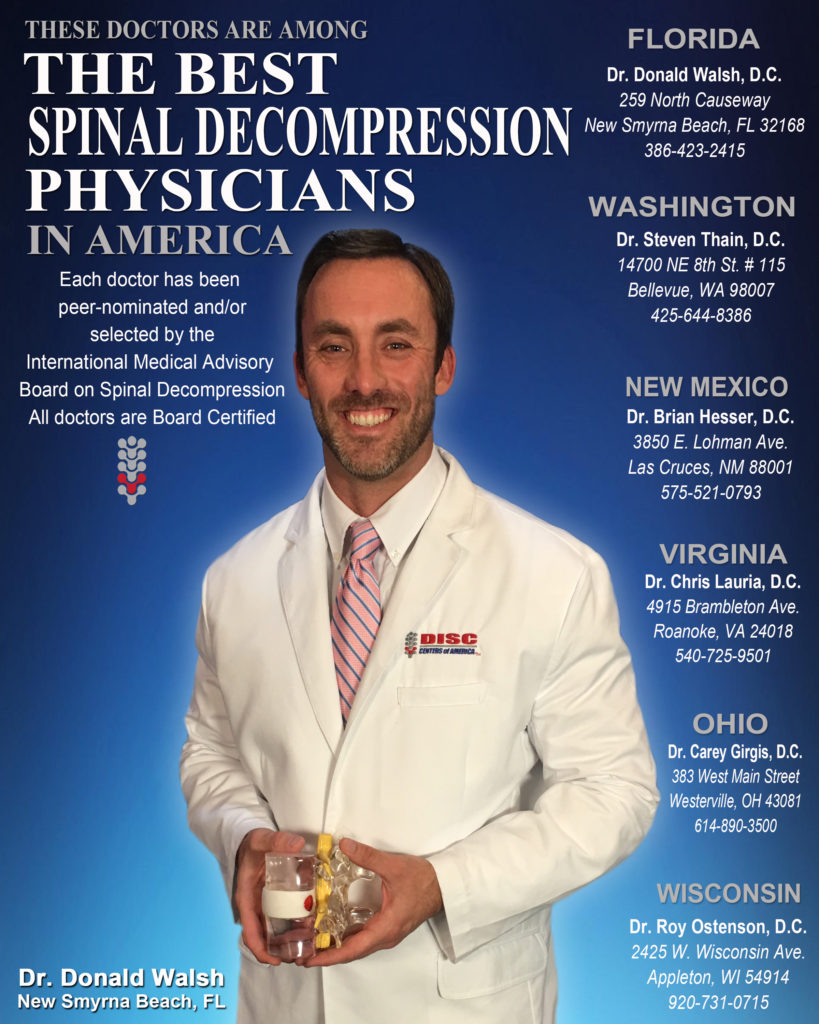 In the past, a patient suffering from disc problems had limited options. These patients were usually first given pain medications and instructed to refrain from physical activities. When that didn't work, they were then referred for physical therapy. Finally, if they didn't progress they were sent for spinal surgery. In many cases conservative chiropractic care proved very helpful but unfortunately, there were cases where surgery seemed to be the only other option… until now.
Today, you don't have to live with that pain anymore. Non-Surgical Spinal Decompression was developed by Allan Dyer, MD, PhD (former Minister of Health from Ontario, Canada and a pioneer in the development of the external cardiac defibrillator). Dr. Dyer invented non-surgical spinal decompression for his own low-back disc problems which proved to be a revolutionary improvement in the treatment of low-back pain.
This new decompression equipment was not available in the U.S. until the mid-1990s, when it gained FDA clearance. Dr. Dyer's work and research were later updated by Harvard professor and neurosurgeon Norman Shealy, MD, PhD (the father of the TENS unit).
Does Non-Surgical Spinal Decompression work?
Dennis McClure, MD, a neurosurgeon who conducted a study that tested over 500 surgical candidates, found spinal decompression had a success rate between 86 and 92 percent a year post-treatment.
There have been numerous other studies done on spinal decompression. One of the first and largest was based on the data compiled by Gose, Naguszewski, and Naguszewski, and published in 1998 in Neurological Research. In this study, data was collected from 22 medical centers on patients who received vertebral decompression therapy for low-back pain, and examined a total of 778 cases. Patients offered quantitative assessments of their own pain, mobility, and ability to carry out activities of daily living.
Decompression was successful in 71 percent of the 778 cases, "when success was defined as a reduction in pain to 0 or 1, on a 0 to 5 scale." Shealy reported the following in the American Journal of Pain Management in April 1997, following a study comparing 14 patients who underwent traditional mechanical traction with 25 patients given spinal decompression: "The decompression system gave 'good' to 'excellent' relief in 86 percent of patients with ruptured intervertebral discs and 75 percent of those with facet arthroses."
Additionally, researchers discovered that computerized decompression tables produced "consistent, reproducible, and measurable non- surgical decompression, demonstrated by radiology."
How Does Spinal Decompression Work?
When the intradiscal pressures increase this causes the discs to bulge out or become herniated and press painfully on nerve roots. This also makes for a compressed and anaerobic environment which is unsuitable for healing. 
Non-Surgical Spinal Decompression produces negative pressures within the spinal disc, which spinal experts believe creates a vacuum effect that draws in nutrients and fluids to promote the repair of injured discs and surrounding tissues.
Additionally, this vacuum effect has also been shown to aid in the retraction of extruded disc material (the gel like nucleus pulposis) from herniated discs.
What is a treatment session like?
Each session of Non-Surgical Spinal Decompression (NSSD) cycles through a series of gentle pulls, holds and releases. Smooth transitions between each phase is assured by the computer controlled logarithmic curve and can make each session so relaxing that you may fall asleep.
During NSSD, the tension slowly builds as it lengthens the spine. Dr. Walsh will determine the appropriate weight (tension) to apply based on individual patient factors. However, up to one half the patient's body weight plus up to an additional 25 pounds of tension may be exerted directly on injured discs without triggering the proprioceptor "guarding" response. This is where spinal pressures drop and decompression actually occurs.
After a holding period, the tension is slowly decreased and the spine is gradually retracted. This cycle is repeated multiple times throughout a treatment session.
How many treatment sessions do I need?
The number of Non-Surgical Spinal Decompression sessions required varies based on the individual and the severity and age of the injury. However, science has shown that about 24 sessions over a six-to-ten week period are required for full recovery. Some patients and disc conditions may require fewer visits while some patients may require more.
Each treatment session builds on the healing benefits of the previous session.
With herniated and degenerated discs, the escaped nucleus pulposis may be partially retracted back into the disc after as few as five sessions which will relieve a lot of pain. Pain reduction however doesn't indicate full recovery, and a full recovery is essential to preventing re-injury.
Is Spinal Decompression Different from Traction?
Non-Surgical Spinal Decompression goes beyond normal traction.
With normal traction, weights are steadily added to the end of a traction bed which then adds tension to a harness around the patient's pelvis thereby lengthening the spine. While the intention is to relieve pressure, the linear force can instead produce muscle spasms which can lead to further injury.
Normally (as mentioned above), pulls exerted on the spine trigger sensory receptors in the back to tighten the muscles surrounding the vertebrae and discs in an effort to protect them from injury. This physical response mechanism is called the proprioceptor response. Non-Surgical Spinal Decompression bypasses this response by slowly pulling on the spine and relaxing the back over an extended period of time, allowing the spine to be repositioned without tension and without triggering the body's proprioceptor response mechanism.
While traction, physical therapy, and manipulation may reduce disc pressures to as low as 40 mm Hg, only spinal decompression has been shown to achieve negative pressures within the spine. It has been clinically proven that spinal decompression creates negative pressures as low as minus 160 mm Hg within the injured disc during the treatment session.